SOREL HOLIDAY COLLECTION
WITH METALLIC POPS, ROSE GOLD HARDWARE, AND GENUINE SHEARLING LINING,
THIS RICH COLLECTION CELEBRATES THE SEASON IN STYLE.

CONQUEST™ WEDGE HOLIDAY BOOT
A winter bootie dressed for the holidays with gold-tone metal finishes and
elegant iridescent leather. Inspired by the look of mountain boots with its
alpine lacing, this waterproof model offers style and protection.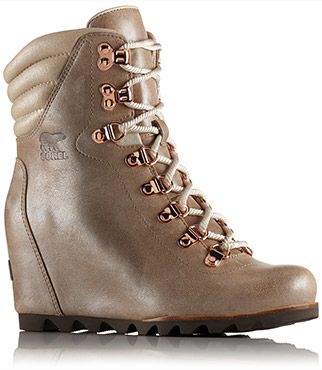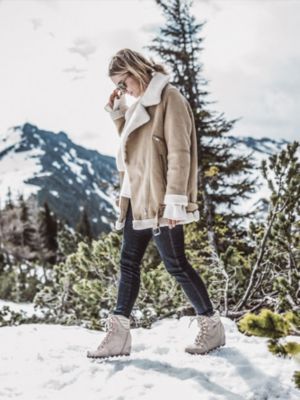 TOFINO™ II HOLIDAY BOOT
With an elegant iridescent shine, this stunning waterproof winter boot is sleek,
sophisticated and party ready. Insulated warmth, plush fleece lining and luxurious
shearling collar detail turn the cosy factor up to ten.
SNEAKCHIC™ ALPINE HOLIDAY BOOT
Comfort and sport collide on this festive, holiday edition featuring shiny hardware,
gold laces, and an ultra-cosy upper of waterproof full-grain leather and felt.